Arthur Ferreira is the managing director of Eco HABITATS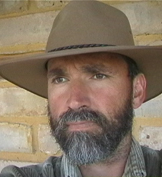 He studied at the University of Technology, Sydney, and graduated with a Bachelor in Civil Engineering. During his extensive working semesters, Arthur was exposed to many design and construction aspects of the commercial, industrial and civil sectors. It was during this 'break-in period' that Arthur became disenchanted with the indiscriminate over specifying, overuse and 'over waste' of materials without regard for the consequential impact on the finite resource depletion. This led him to tackle a much needed and praised, two hundred page, thesis on "ECO Homes- a current state analysis of the built environment and an ecological alternative".
Since his graduation, Arthur has undertaken a pro-active role in researching and implementing means of minimising environmental disruption and degradation in the residential sector. In 1996, ECO Habitats became the means of pursuing Arthur's vision of Developing Sustainable Environments. Many beautiful eco homes have now been designed, engineered and hand built exclusively by Eco HABITATS.
Arthur is the sole proprietor of Eco Group Australia Pty Ltd and is a qualified building supervisor. Eco Group trades as Eco HABITATS and has a registered division- Eco VOLTAIC, for energy research and consultancy.
Eco HABITATS is based in the beautiful, World Heritage listed, Blue Mountains in NSW, Australia. Eco HABITATS is also Blue Mountains' first and only eco home builder offering full in house design, architectural and engineering documentation followed by construction since 1996.
Since then many clients have become friends & occasionally join Arthur in the pleasures of the Blue Mountains' rugged wilderness bushwalking, mountain biking, canyoning and fly fishing (catch and release of course!).